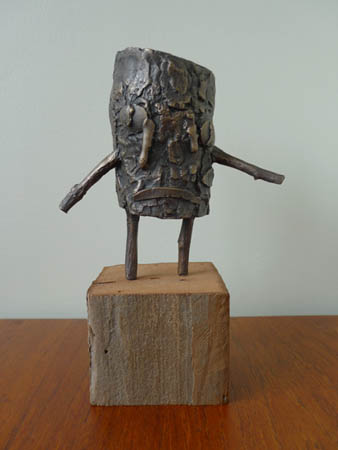 PWP012 - Small Log By Jon Pylypchuk

Bronze sculpture mounted on wooden base

8.5 x 5.5 x 3.5 inches

Edition of 10, 1 Artist Proof
Numbered and signed by the artist

No longer available.

About the project: I was sitting around with my friend Andrew and he was urging me to think of something for the facade of the New Museum in New York. I had these logs sitting around and I had been drinking booze too often. I was thinking about how stupid it is to drink so much, and sort of thought that I was like this drunk log.

I made a much larger one with the intention that if the project got green lighted that I would make a bunch of drunk logs walking around the Bowery. I liked the idea and thought that it would make a nice edition. When I got the logs back from the foundry I intended to make them holding a little airplane bottle of Jack Daniel's but it looked better without it.

Except from an interview with David John. To read more, visit his blog You Have Been Here Sometime.